NextGen CM/ECF allows users to use a single login for both PACER case research in all courts and electronic filing access in NextGen courts.
To have full access to all NextGen features, a user must upgrade the individual PACER account and link it to an existing CM/ECF e-filing account; instructions for upgrading current, individual PACER accounts are here, and instructions for linking PACER to CM/ECF accounts are here.
A user who does not currently have an individual upgraded PACER account may create a new account by following these instructions. A user who does not currently have a CM/ECF e-filer account in the Second Circuit may register for e-filing privileges by following these instructions.
Each NextGen CM/ECF filer will have an individual account; NextGen will not use firmwide or shared PACER accounts. The account remains with the filer, even if the filer changes firms. For more information about upgraded PACER accounts for NextGen CM/ECF, see the PACER Service Center website.
To file in the Second Circuit using NextGen CM/ECF, a user with an upgraded PACER account linked to a Second Circuit CM/ECF e-filer account will log in to the Second Circuit's NextGen CM/ECF site through PACER. On the PACER Login screen enter the upgraded PACER username and password (and, optionally, a client code). Click Login.
To complete the login process a filer must accept the terms of the Redaction Agreement by clicking in the checkbox. Then click Continue.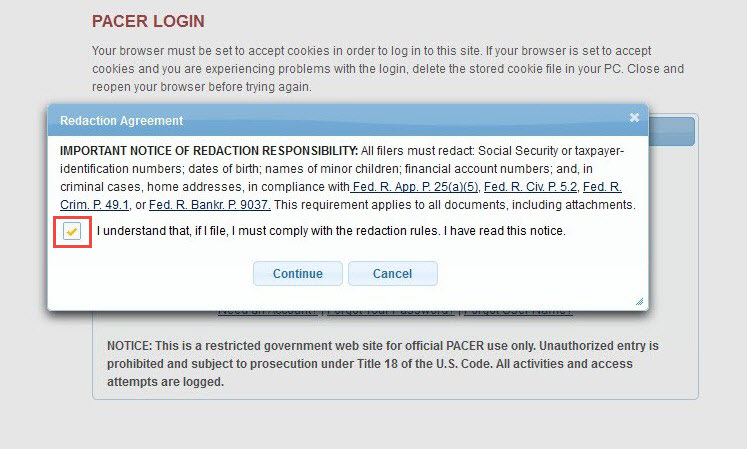 The new NextGen CM/ECF landing page opens. The CM/ECF logo at the top left is a link; it appears on every sub-page, and will return the user to the landing page when clicked. The menu items are right-justified at the top of the page.
Filing instructions begin here.
Last modified at 10/16/2014