On October 16, 2012, the Second Circuit issued an opinion titled In the Matter of Immigration Petitions for Review Pending in the United States Court of Appeals for the Second Circuit. The opinion describes a procedure that the Court will implement in pending immigration cases to enable any Petitioner and the Government to determine whether remand to the Board of Immigration Appeals ("BIA") is warranted.
On October 23, 2012, the Court will begin to issue, on a rolling basis, in all immigration proceedings in which a certified record on appeal has been filed, an order tolling the proceedings for a period of 90 days.
At any time during the tolling period, a petitioner may move under FRAP 42(b) to dismiss the petition and remand the case to the BIA. View instructions for filing the motion to remand.
Or, during the 90-day tolling, any party may end the tolling by filing a letter to that effect with service upon the adversary. View instructions for filing the letter to end tolling.
If, pursuant to a FRAP 42(b) motion to remand, the Court has dismissed the petition and remanded the case to the BIA, either party can reinstate the case with the Second Circuit by filing a letter to that effect with the Court. View instructions for filing a letter to reinstate in the Second Circuit.
If after remand the Government decides to renew efforts to remove a petitioner, the Government will notify the Court and petitioner at least twenty-one days before removing petitioner. View instructions for filing the Government notification with the Court.
When the Court files a 90-day tolling order, each counseled party will receive a Notice of Docket Activity (NDA) containing the tolling order and a copy of the Court's October 16, 2012 immigration opinion. To view the attached documents, click the hyperlinked word Document(s).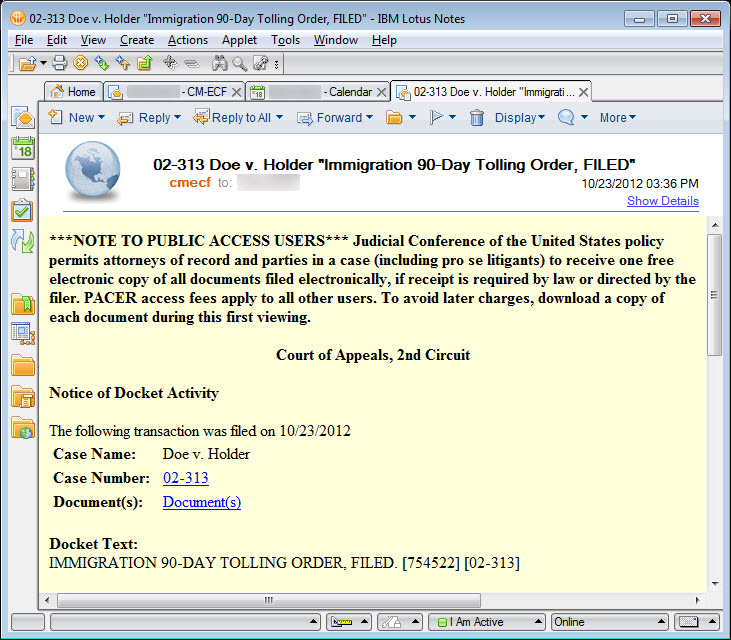 The document screen opens in a browser. Click on the document icon to open each document, or click the Combine All Documents button to view the documents as a single document.


Filing instructions
Last modified at 10/25/2012