All the usual filing fees, found in the Second Circuit's fee schedule, apply to electronic filing. Filing fees are payable by check made out to United States Court of Appeals for the Second Circuit and mailed to Clerk's Office, US Second Circuit Court of Appeals, 40 Foley Square, New York, NY 10007. The Second Circuit also accepts electronic fee payments through PACER; click here for instructions for making electronic payments.
No additional fees are charged to users filing with CM/ECF.
A public user is charged 10 cents per page, however, for the results of a search on case-specific information. "Case-specific information" includes docket sheets, PDF copies of filed documents, and the cases report. There is a cap of $3.00 (30 pages) for a single document or case specific report including docket sheets. Each attachment in CM/ECF is considered a separate document. Accordingly, the cap will apply to each attachment over 30 pages separately.
Billable pages are calculated in two ways in CM/ECF. A formula is used to determine the number of pages for an HTML formatted report. Any information extracted from the CM/ECF database, such as the data used to create a docket sheet, is billed using a formula based on the number of bytes extracted. For a PDF document the actual number of pages is counted to determine the number of billable pages.
When printing report data retrieved from the CM/ECF system, the print job will not always match the number of pages billed. The number of pages printed is dependent on individual printer and browser settings. All users are charged equally for the same information regardless of the browser settings or printer configurations. A transaction receipt and the Review Billing History option, accessible through the Second Circuit's PACER search screen (login here) are provided in each court site for reviewing charges.
A filer may access the billing history through NextGen CM/ECF using the Reports function. For more information on the billing history report click here.
A filer may view a detailed transactions record at the PACER Service Center website. On the PACER Service Center homepage click Manage My Account at the top of the screen, log in, and open the Usage tab on the Manage My Account screen.
Click View Detailed Transactions. Select the court from the pull-down menu (optional), enter the date range, select the order in which the transactions should appear (optional), select the transaction type, and check to receive a summary rather than a detailed list (optional). Click Submit.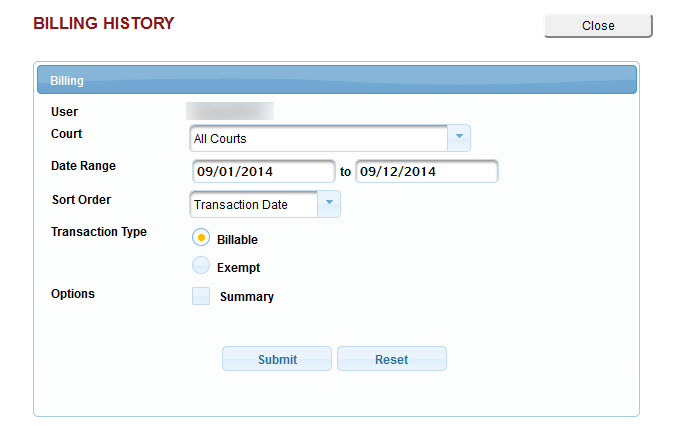 The detailed transactions list opens. The transactions are updated on the PACER Service Center website by the middle of each month.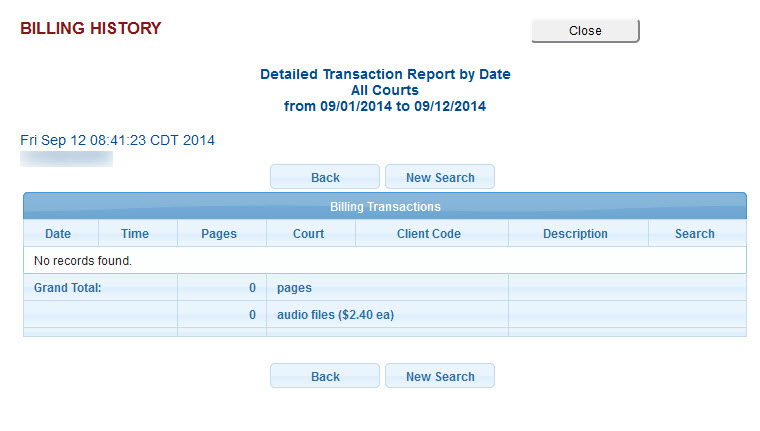 For further questions about PACER or CM/ECF billing, see the Frequently Asked Questions page at the PACER Service Center.
Last modified at 10/17/2014