A user must have both a PACER account and a CM/ECF appellate filer account to file electronically in the Second Circuit.
To create a PACER account, please visit the PACER registration web page and follow the steps below.
1. Enter at least the information requested in the boxes marked by red asterisks. On-screen help is located on the right side of the screen.
Account Information section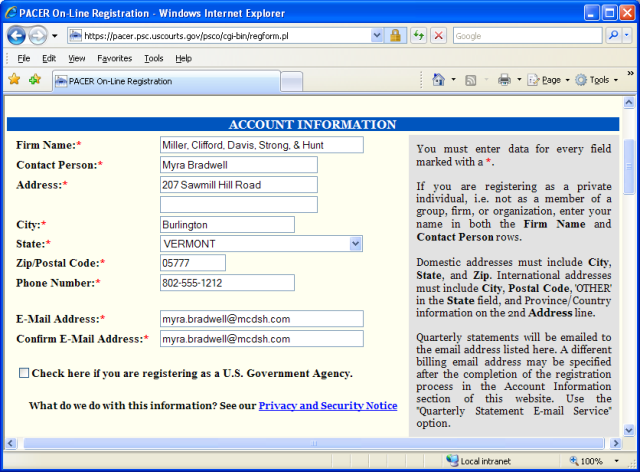 2. (Optional) Scroll down. Enter credit (or debit) card information for direct billing.
Credit Card Information section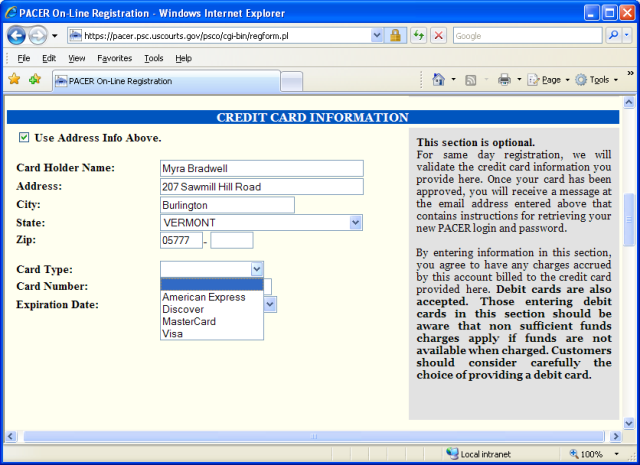 3. (Optional) Scroll down. Answer the default security question (or type a personal security question and answer) and input the date of birth. This information will be used by the PACER Service Center to verify a user's identity when a password is lost.
Password Security Information section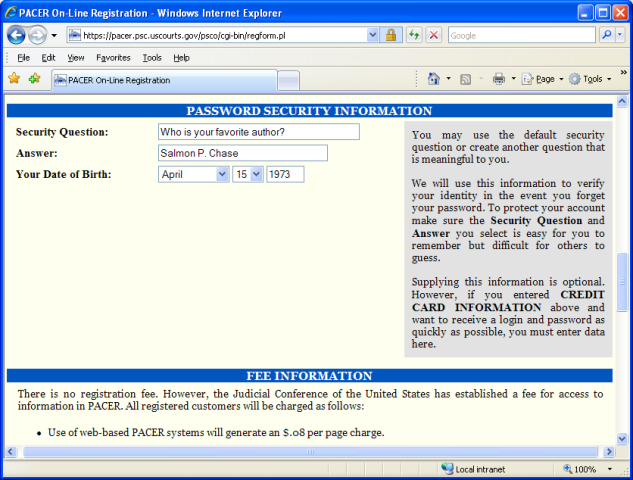 4. Scroll down. Read (and click the checkbox to acknowledge reading) PACER's policies and procedures.

Acknowledgement of Policies and Procedures section


5. Scroll down. Submit the completed form by clicking on Submit Form at the bottom of the page.
Submit completed form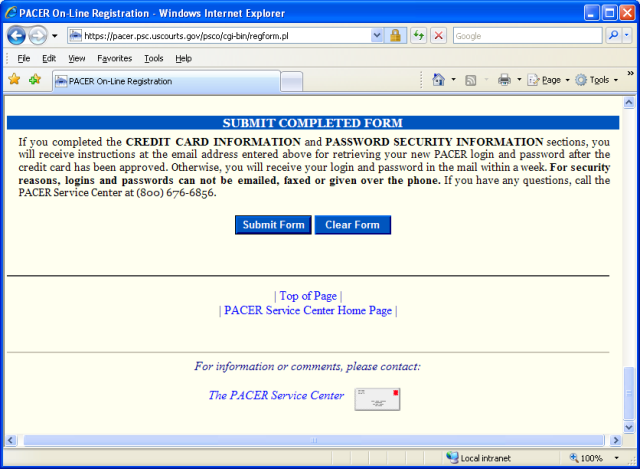 As noted on the web page, the speed with which a user receives a new PACER login and password depends on whether credit card and password security information were entered. If that information was entered, the user will receive the login information once the credit card has been approved. If no credit card and password security information was entered, the PACER login and password will be sent by US Mail.




Contact the PACER Service Center via telephone at 800-676-6856 or by mail at:

PACER SERVICE CENTER
PACER REGISTRATION
P.O. BOX 780549
SAN ANTONIO, TX 78278-0549


The PACER Service Center will respond most quickly to a user that registers through the web page.

Last modified at 10/14/2009