These instructions show how to register to e-file using NextGen CM/ECF in the Second Circuit.
A filer with an existing CM/ECF account for e-filing in the Second Circuit should not register again. Instead, a filer with an existing CM/ECF e-filing account must link the upgraded PACER accounts to the existing CM/ECF accounts to take advantage of the single login in NextGen CM/ECF; instructions for linking the accounts are here.
To register for e-filing privileges, click the Maintenance tab on the PACER Manage My Account screen. With the Maintenance tab open, click Attorney Admissions/E-file Registration.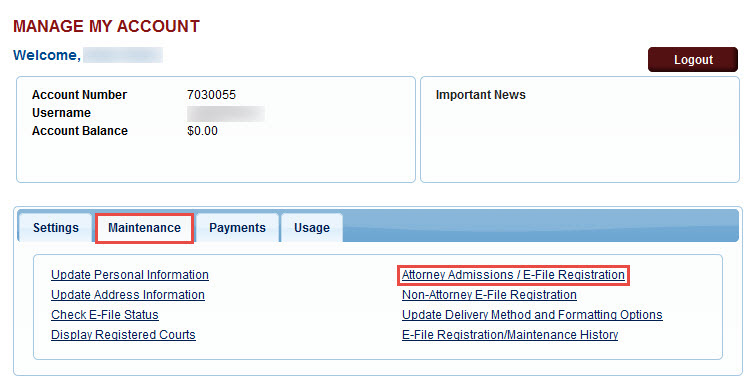 Use the pull-down menus to select the Court Type and Court. When both the Court Type and Court are selected, click Next.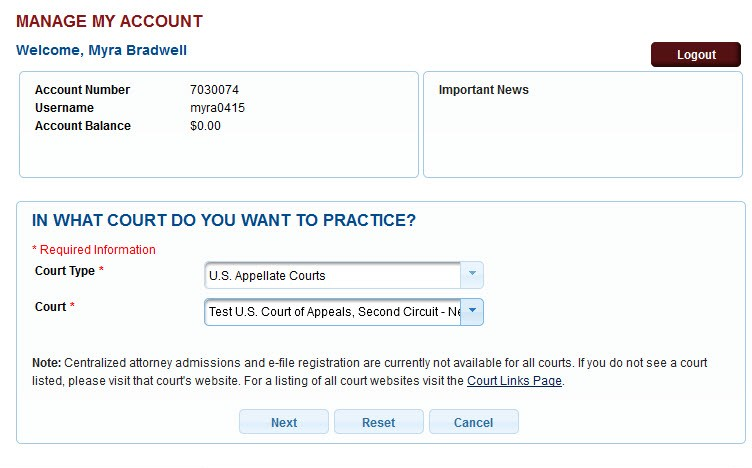 Before applying for e-file privileges in the Second Circuit, a filer must review the Court's e-file policies and procedures by clicking the appropriate links. After reviewing the Second Circuit's policies and procedures, click E-File Registration Only.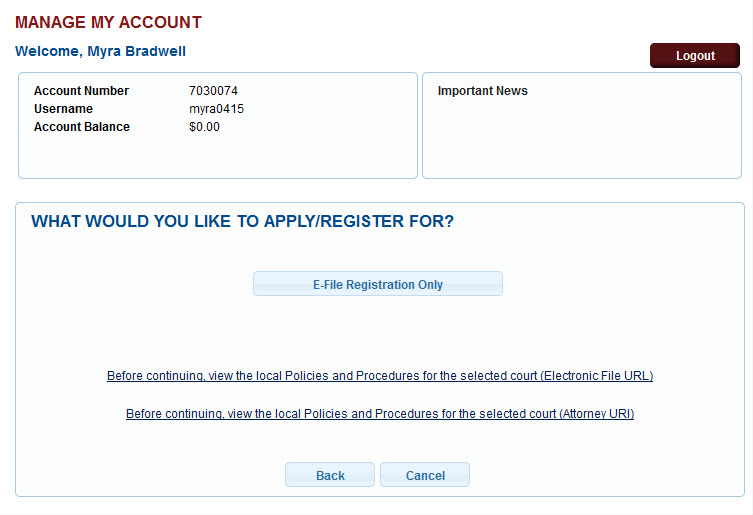 Note: In the Second Circuit, attorney admissions and bar renewals are managed separately through CM/ECF NextGen, not directly through PACER. See the instructions here.
Complete all required fields (those marked with a red asterisk). Most of the fields will be filled with information entered earlier.


Scroll down to complete the two required fields in the Delivery and Formatting section. Click Next.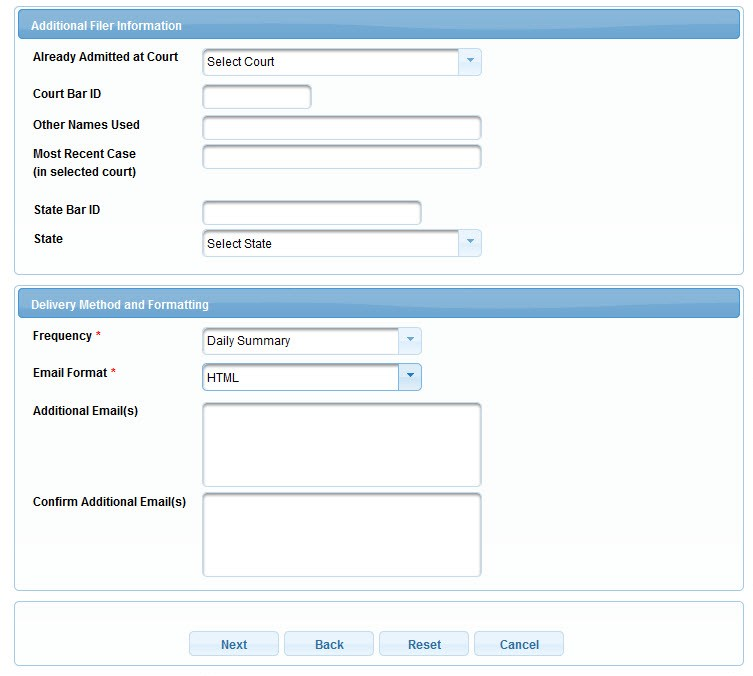 The next section is for entering payment information. This optional section provides users the opportunity to store credit card information for paying filing fees.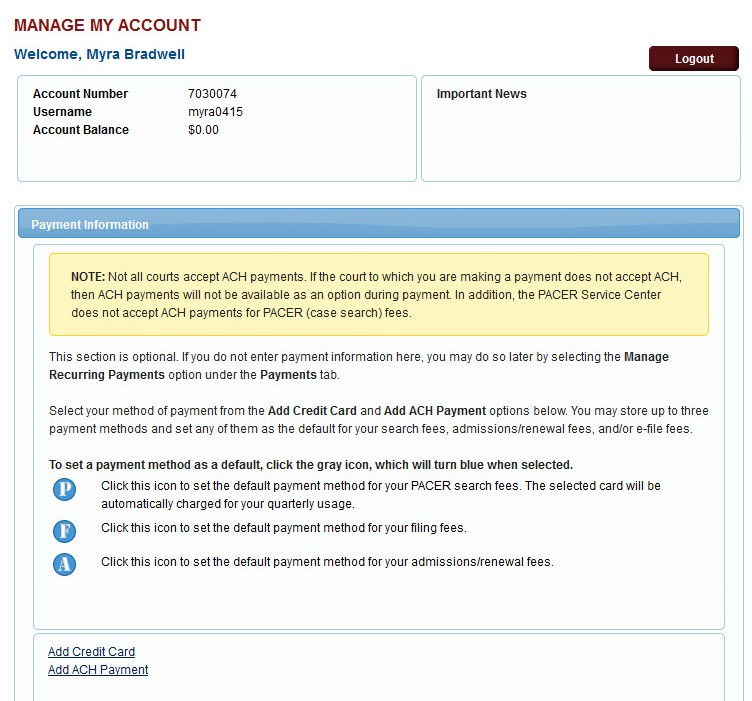 Follow the instructions for adding payment information or scroll to the bottom of the page and click Next.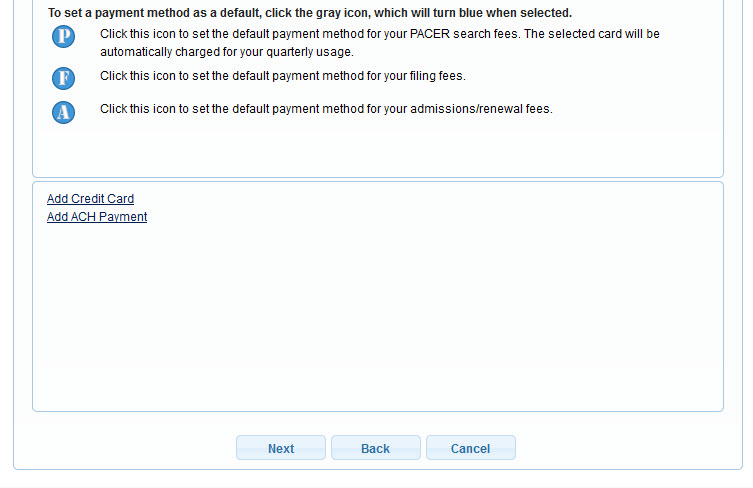 After entering or skipping the payment information, the last page of the registration process opens. Read the e-filing policies and procedures and check the acknowledgement boxes. Scroll to the bottom of the page and click Submit.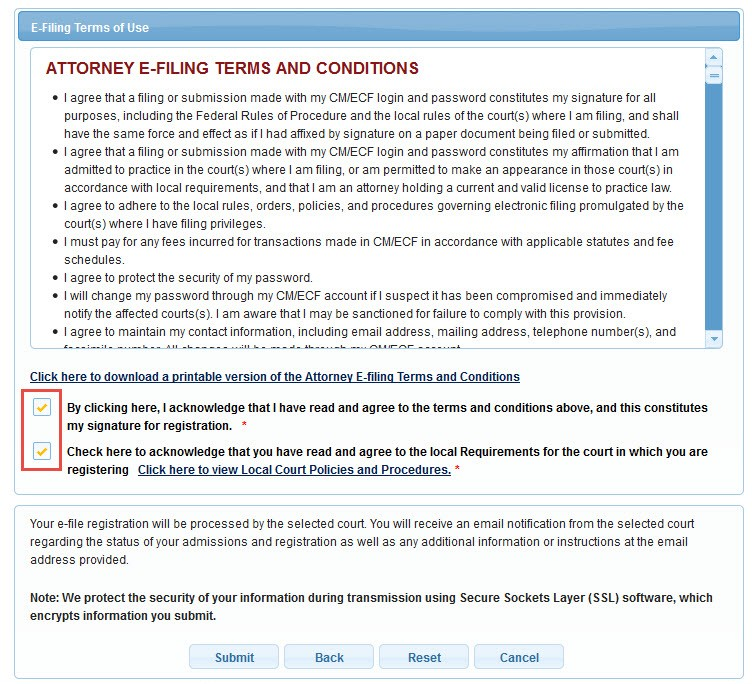 The Confirmation Page opens. Court staff will process the registration. The registrant will receive an email notification regarding the status of the e-filing registration, along with any additional information or instructions. Click Done.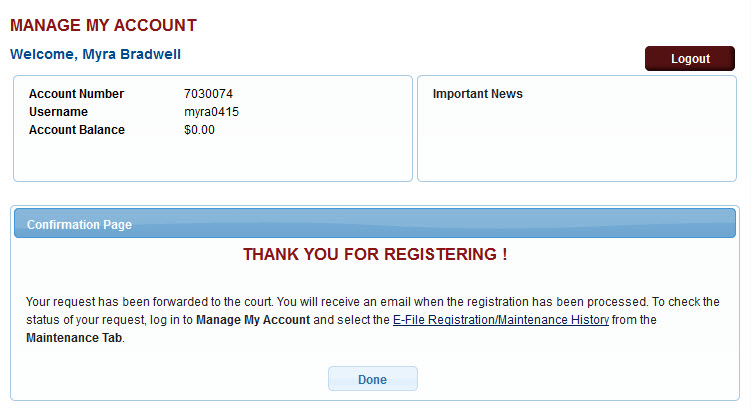 Last modified at 9/19/2014